YMCA Brisbane is proud to announce it is the winner of the Excellence in Social Impact Measurement Award, for its Impact Measurement Methodology program, in the 2019 SIMNA Awards.
The SIMNA (Social Impact Measurement Network of Australia) Awards celebrate Australian organisations, social enterprises, businesses, and impact inventors that undertake or support social impact measurement.
YMCA Brisbane facilitates 10 Social Impact programs to tens of thousands of people each week, with programs including: Independent School, Community Housing, Schools' Breakfast Program, Social Enterprise, Vocational Education and Training and School-Based Mentoring programs.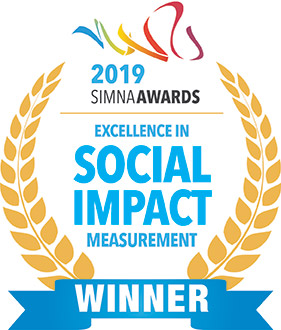 The Excellence in Social Measurement Award is described as the 'Gold Logie' of social impact awards. In winning this award, YMCA Brisbane is recognised for the design and implementation of its highly-effective 'Impact Measurement Methodology' program. Central to the Impact Measurement program is the development of Monitoring, Evaluation and Learning (MEL) frameworks to evaluate the organisation's Social Impact programs.
Gary Adsett, Group Manager YMCA Social Impact, said, "I am incredibly honoured that YMCA Brisbane has been recognised for building a culture that values social impact and outcomes measurement. We believe that if it's worth doing, it's worth measuring. Our Impact Measurement program provides tangible evaluation results to inform our decision-making processes and meet the needs of our beneficiaries. We will continue to develop and apply measurements to maximise the social impact that we make."
Simon Faivel, SIMNA Chair and Director of SVA Consulting said: "The SIMNA Awards are a national celebration of those growing and shaping the practice of social impact measurement in Australia. New community-based approaches that build resilience across generations are a broader investment across Queensland's youth and young people. The standard of excellence demonstrated by YMCA Brisbane's Impact Measurement Methodology is to be commended."
The judging panel took into consideration that YMCA Brisbane is a long-established and trusted name in community service delivery. It unanimously concurred that its application expressed the best practice and embodiment of the Principles of Social Value.
Judging panellist, Dr Emma Lee, commented: "The YMCA has a long and trusted name in youth and young peoples' service delivery. Their achievements are singular in the levels of impact across families and communities – whole societies are benefiting and being uplifted to demonstrate real social and cultural value within socio-economic outcomes built from the ground-up. This field of social impact demonstrates Australian innovation at its best."
YMCA Brisbane began measuring impact approximately six years ago. The organisation continues to use the information generated from impact measurement for planning and decision-making purposes in a transparent and accountable way.